A campaign chair which is a wonderful bit of design.  I have 4 and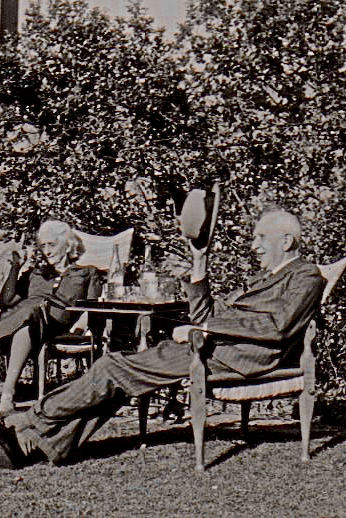 love them.   My Uncle, Jack Berrington, was issued with 2  ,'officers , for the use of',  in the Boer War, .     Uncle Jack's pair was lost in transit so he indented for two more.  The original pair reappeared and now I have all four.  Here is his Brother in Law, my Uncle Gilbert, sitting in one in about 1950.   He is in a reclined position and the bottom edge of the tilted back rest gives some pelvic support, and this unexpected ergonomic efficiency is why officers may have found it so comfortable.
Developed by the Indian Army Corps of Engineers in Roorkhee, India, the chair is lightweight at about 10 lbs., and breaks down quickly to be stored in a 9″ x 36″ canvas bag.   The ingenuity of the design lies not only in its ease-of-assembly and dis-assembly, but the very act of sitting in the chair reinforces its structure.  The seat canvas is slung between front and rear crossbars and pulls them towards each other, tightening the side rails in their mortises with the legs.
They were used in the Army from 1898 to WW2 and have spawned a number of modern designs including Klint's Safari Chair and also by Marcel Breuer (the Wassily chair), Le Corbusier (the Basculant Chair), Wilhelm Bofinger (the Farmer's Chair) and Vico Magistretti (the Armchair 905).       Core 77 has an account and show a number of archive photographs of the chair being used including one  of Gen. Earl Alexander, sitting beside Churchill who is in an upholstered arm chair which is probably less comfortable. (See https://www.core77.com/posts/65226/MCM-Furniture-Design-History-The-Safari-Chairs-Military-Roots)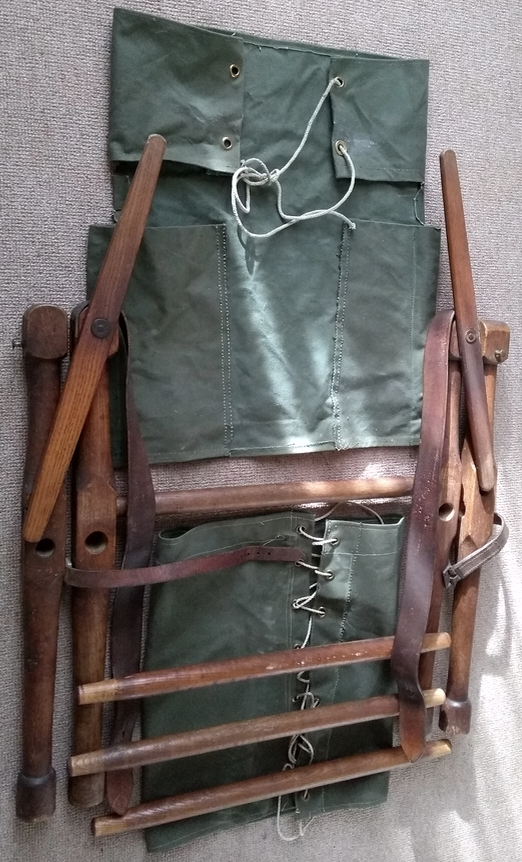 My chair, disassembled.  Shows the backrest.  The original canvas was lighter in colour, shown is army tent canvas.   The front strap may have been added later.