The Layout Arrangement of this work.

  All post are shown in the menu on the right→ .       Specialists may prefer to jump directly to their page of interest using this menu→.
For an overview of contents…..

Designers are the intended readers and,  apart from some duplication, are advised to read the whole work.  This includes a large body of research and background, on spinal bio-mechanics.☛  For DESIGNERS →

 Manufacturers can be reassured that feasibility indicates that existing components can be used ,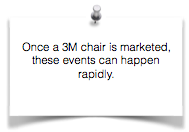 avoiding the expense of retooling, while preserving their brand image.   Prospective manufacturers can be helped to leap ahead of the field,  ☛  Manufacturers →
New ideas can create both threats and opportunities , once both familiarity  and normalcy biases are overcome.  Creative disruption works.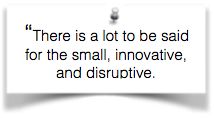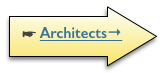 For New offices 'Coolness' is the word to  excite media interest for both the company and the Architect/Designer.   Most firms aspire to project this cutting edge image.    A 2T chair, or the derived 4M workstation, answers this exactly and in addition reduces LBP and increases productivity by lessened morbidity and stress.  Also see  ☛  PRODUCTIVITY AND WORKPLACE STRESSORS→(Article published in EurOhs, European Occupational Health and Safety Journal, Dec 2002.by Dr HA Sanford)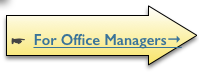 Allows an alternative view to the usual hype, often laughably misguided, from manufacturers,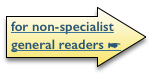 ☛ BACKACHE? For users and patients (only)→
Also of LIKELY INTEREST to a general reader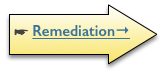 Backache, chairs & the office environment..   A number of systems which are in use are described.
Spinal bio-mechanics dictates that prolonged sitting should be performed in a reclined position with frequent change of posture.  For a full remediation  a number of requirements are essential.   To be effective these are detailed in the
2T CONCEPT a full solution
Topics and some relevant subjects
Requirements for optimising the bio-mechanics of prolonged sitting
Partial remediations.
Systems in use at present,    See ☛ Remediation→

See ☛ 2T CONCEPT a full solution→
This incorporates :-
A reclined mode for prolonged work    ☛2T reclined mode→
An upright mode required for certain short jobs.    ☛2T Upright mode→
An unstable intermediate mode to enable a quick, easy transition between the 2T modes.    ☛2T transition mode→    ☛ dynamic seating→  With the recognition that the transition movement has physiological advantages, this has been upgraded to a 'mode'.  The 2T now becomes a triple-mode (3M) concept.