The Layout Arrangement of this work.
For some readers this study was too large and diffuse.   It is now divided into subdivisions.

This is indicated in the top menu↑.   All post are shown in the menu on the right→ .       Specialists will prefer to jump directly to their page of interest using the Right menu→.
For an overview of contents…..

Designers are the intended readers and,  apart from some duplication, are advised to read the whole work.  This includes a large body of research and background, on spinal bio-mechanics.

 Manufacturers can be reassured that feasibility indicates that existing components can be used ,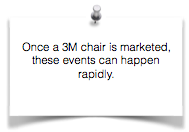 avoiding the expense of retooling, while preserving their brand image.   Prospective manufacturers can be helped to leap ahead of the field,  ☛  →
New ideas can create both threats and opportunities , once both familiarity  and normalcy biases are overcome.  Creative disruption works.
Topics and some relevant subjects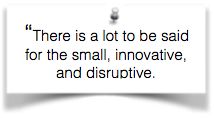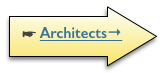 For New offices 'Coolness' is the word to  excite media interest for both the company and the Architect/Designer.   Most firms aspire to project this cutting edge image.    A 2T chair, or the derived 4M workstation, answers this exactly and in addition reduces LBP and increases productivity by lessened morbidity and stress.  Also see  ☛  PRODUCTIVITY AND WORKPLACE STRESSORS→(Article published in EurOhs, European Occupational Health and Safety Journal, Dec 2002.by Dr HA Sanford)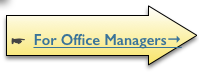 Allows an alternative view to the usual hype, often laughably misguided, from manufacturers,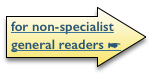 Also of LIKELY INTEREST to a general reader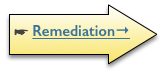 Backache & chairs.   A number of systems are described.  Spinal bio-mechanics dictates that prolonged sitting should be performed in a reclined position with frequent change of posture.  For a full remediation  a number of requirements are essential.   To be effective these are detailed in the 2 Tilt (2T) concept.
Requirements for optimising the bio-mechanics of prolonged sitting
Partial remediations.

Systems in use at present,    See ☛ Remediation→
The obvious, and perhaps only, solution was for prolonged work to be performed in a chair that has a stable, correctly supported, supine reclined mode. Shown here is the Okamura 'Atlas' chair.  ☛ Atlas→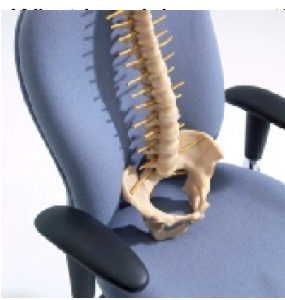 Other, commonly used partial solutions include ☛ Pelvic support→,
 ☛forward tilted seat→, & Ischial off-load →
& ☛Sit/Stand→.

A full remediation, the 2Tilt Concept, is suggested.  See ☛ 2T concept→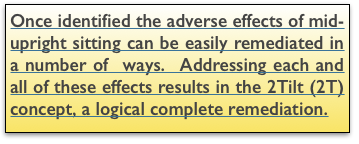 Combining these requirements can be difficult to achieve but is possible in a suitably supported reclined mode at 40-45° which conforms to spinal morphology (configuration). This alone is impractical as a work position unless a number of secondary requirements are incorporated to make this simple concept suitable and practical for a work chair.

A reclined mode for prolonged work    ☛2T reclined mode→
An upright mode required for certain jobs.    ☛2T Upright mode→
An unstable intermediate mode to enable a quick, easy transition between the 2T modes.    ☛2T transition mode→    ☛ dynamic seating→  With the recognition that the transition movement has physiological advantages, this has been upgraded to a 'mode'.  The 2T now becomes a triple-mode (3M) concept.
A sit/stand facility can be incorporated to become a 4M version.    ☛Sit/Stand→
*********************

'Sitting disease'
Compared to people who sit the least, those who spend most time in a chair have a 112 % higher risk of developing diabetes, a 147% higher risk of suffering "cardiovascular events" such as strokes and a 49%t increased risk of death from any cause.  (http://www.telegraph.co.uk/wellbeing/fitness/sitting-disease-is-killing-us-and-exercise-doesnt-help/)   Alarming but not entirely an effect of the bio-mechanics and not examined here.  However some posts are relevant.