A plethora of adjustments is confusing and can be adverse if adjusted wrongly.  Ideally they should be avoided as far as is possible.
Chair designers place emphasis on variability and adjustability for greater comfort.
"One size does not fit all. The amazing diversity of human form requires a chair that can adapt to different shapes and proportions as well as different heights and weights."
The variability of the torso shown in these body types is mainly due to the soft tissues. There is surprisingly little variability in the underlying supporting skeleton of the torso.  A greater understanding of spinal anatomy shows that variation occurs at the periphery – the  long (limb) bones and the neck.
Adjustments should be avoided, as far as possible, except for the head and feet and possibly height of seat.  As variation in size of the skeleton of a human torso is not great except for the soft tissues and to the long (limb) bones there is no need for variability to be built into the chair parts that support the torso. With most chairs these are adjusted into the wrong position! This flies in the face of chair designers who are searching for the Holy Grail of infinite adjustability an entirely misplaced endeavour and merely another example of 'familiarity bias'.   If a manufacturer prefer a plethora of adjustments, although increasing costs and degrading the green footprint, this does not entirely negate the 2T principles. Although as far as possible, adjustments should be avoided, the footrest position must adjust to leg-length.
Scrapping adjustments
A number of adjustments can be scrapped.  They make the whole system confusing and fiddly, not to mention, expensive.   As shown under the 2T concept the only adjustments required with an anatomically correct design are for the length of the foot-rest, the height of the seat, and vertically and A-P for the head-rest.  Other adjustments should be viewed with scepticism and not as an advantage.   `Scrapping adjustment controls would make any chair more friendly to the user.  Win-Win for everyone including office managers!  Manual adjustments are equivalent to double declutching in motoring.  Days long past!  Misconceived regulations may constrain this concept in some respects but can usually be circumvented.
3D printing in the manufacturing of a 2T chair would allow a ' bespoke, tailor-made' version for individual users and is particularly relevant for those with 'special needs'.
Variation at the head and neck
In the reclined mode a line of sight to the desk top is required which must accomodate axial variations in neck length and a degree of cervical flexion.  The last can be obtained by reducing the reclination to a more upright configuration which loses some bio-mechanic advantage.  The upper lumbar/thoracic kyphosis can safely be increased as it spans some 14 joints.  The thoracic joints, splinted by the ribs, is regarded as unable to flex but may be able to achieve about 5° overall and more at the upper lumbar joints.  This increase in flexion allows less cervico-thoracic flexion to ensure a horizontal line of sight.
The adjustment for the head-support should be at a lower  thoracic level which would allow flexion to extend over these extra joints.     It has an added advantage by ensuring a correct level for support of the shoulder girdle.
With a FTS in the upright mode the headrest becomes redundant.
 Pelvic support
The initial requirement of the 2T concept is 'a reclined mode with correct support'. The word 'correct' should be emphasised.   There is an unnecessary  and unfortunate tendency, in more expensive chairs, to enable pelvic support to be varied in height.  This is unnecessary as there is little variation in the height of the iliac crest above a flat seat.  Adjustment should be scrapped so that it cannot be adjusted upwards into an adverse height above 20cm when 'pelvic' support changes to adverse 'lumbar' support.    In my experience adjustments are usually made in the wrong direction.  This was the case with the HM Aeron chair where the pelvic support should be only used at it's lowest position.   Even this is high for a smallish person.  This height might only slightly reduce the mechanical efficiency for an unusually tall man but will not harm a small woman    Anecdotally, this is certainly my experience when looking at many 'ergonomic' chairs.  Invariably the adjustment allows support above 20cm and is commonly so mis-adjusted by the user. In some chairs the depth of pelvic support can be adjusted using an inflatable cushion similar to a sphygmomanometer.  Like any other it can be wrongly adjusted by the user searching for 'comfort'.    
The design concept appears misconceived.  Only a nudge is required to prevent backward tilting of the pelvis and thereby comfort and, more important, the preservation of lordosis is ensured. Manufacturing costs are reduced. So scrap it!
      (by HAS).                                                                (by Wicketts D, after Reynolds et al. 1982153)
For  pelvic (Iliac) support the pressure is directed to the posterior superior iliac spine at 168-146 mm. above the seat (+ 15mm for the soft tissues).  This distance does not vary greatly between individuals, +/- 22 mm.  among the adult population  and for this small amount of variability no adjustment is required.  168 mm. iliac support would be optimal for a large man but adverse for a small woman.  The importance of this measurement for chair design has not been appreciated and further assessments would be welcome.  Three models may be required to cover the top percentile of very large men, the middle percentiles and the bottom percentile for a very small woman.
In the reclined mode of the 2T (3&4M) solution→ , iliac support is only required to prevent the lumbar lordosis from flattening.  In the upright mode it plays no, or little, part  with a FTS but is important and has to be correctly configured if the seat is flat & horizontal or in the 'ischial off-load' system.
The height of a chair is important for an upright chair, but less so for a fully reclined chair. Anthropometric tables for popliteal (below knee) height has includes work by Pheasant (1990) and in a more homogenous group of women in the US forces of whom 35% required seats lower than 16 inches (Gordon 1988).  A study (Takeoka 1991 ) of 200 Japanese women concluded that office chairs should adjust down to a height of 141⁄2 inches.   Mandal, for a 671⁄2" (172 cm) girl, found that a tilted seat height of 25" gave a hip angle of 42° and required a table height of 36" (91 cm).
Much of this becomes redundant in the context of the 2 Tilt principles. In the reclined mode the variability in the human torso can be contained in a single construct, provided that there is vertical adjustment for the head and feet. Adjustments may be required for individuals of unusual shape or have deformities, for example permanent adjustment for the width between armrests. Shifting the position of the tilting fulcrum may be required and this adjustment should be effected with an Allan key or spanner by someone who understands anatomy. My observation that most chairs are adjusted into the wrong direction is confirmed by an article in Hermann Miller (research). Three overall sizes can be allowed!   An account of kinematic reclination in the Aeron chair can be seen on the HM website→
Tension control & adjustment
Commonly advertised as a selling point.   I am not sure why.  The  monocoque P3 at MfI, Cambridge had a simple fulcrum tilting method.  I was expecting this to need adjustments but a trial with a large available porter made no difference to the movement.  Would an engineer kindly explain?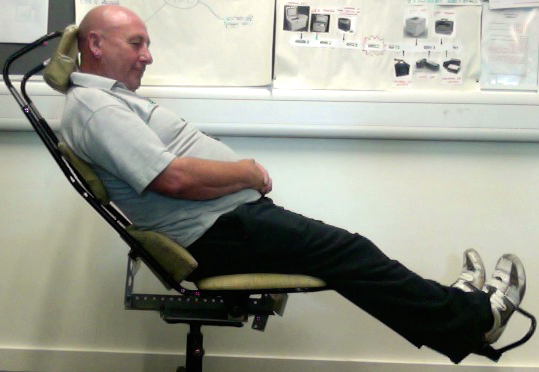 And other considerations.   Next see, ☛ Comfort→