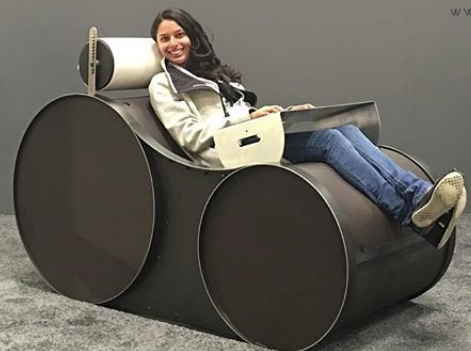 This highly innovative chair was introduced to me by it's designer,Thomas Stroman, the Founder of Stroman Design.   He wrote to me "I am an architect by training, but having experienced back surgery, my focus has been on ergonomic seating design for human-computer interaction.  Over the past three years I have designed, prototyped and patented the Chotto® ( chair + ottoman ) .  It is a uniquely human-centric and recumbent seating / task-seating / standup desk that positions the body
into close proximity to the neutral body posture that is produced in microgravity."  "I believe  this field of study is increasingly important and needs to be pursued given the scope of benefits it can provide those who must sit by choice or physical condition. I would also like extend an open invitation to you to evaluate my prototypes if you are ever in NYC.    Regards,  "
An excellent objective and a very interesting product.  At first glance I might be excused for thinking that it looked as if it were self mobile with caterpillar tracks.  Perhaps an exciting concept for the future.    I wrote back (May 19, 2017)
Dear Tom    I have had another look at your web page  www.stromandesign.com​  At first sight, I admit, I thought the Chatto to be OTT.  But on second thoughts, some might find it attractive, including me, to charge around an open plan office floor in a mini-tank.  But I can see it excites 'familiarity bias'.  I can see no reason why it cannot be modified to take advantage of the 2T ergonomic optimisation.   This would be a huge selling point.  Even the Chinese put 'health' as their top design requirement  Unlike our chair manufacturers who put 'comfort'.  (See http://sittingsafely.com/comfort/ ).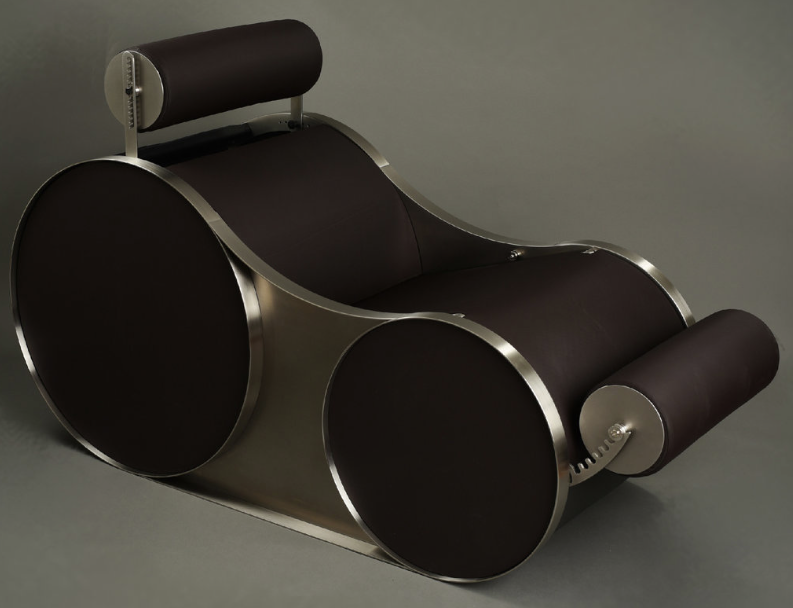 In the early model, above, I was worried about the apparent calf compression that has the potential for DVT.  "An optional footrest elevates the legs and feet while an immediately mobile, nested and freely rotating task tray provides a universal surface for eating, reading, writing, or digital interaction. This same tray can be repositioned within the optional rear support brackets for use with the pivoting display interface / standup desk ( PDI ).  The PDI is based on design research that favors a human-centered interface that literally revolves around the seated, tension-free and fully supported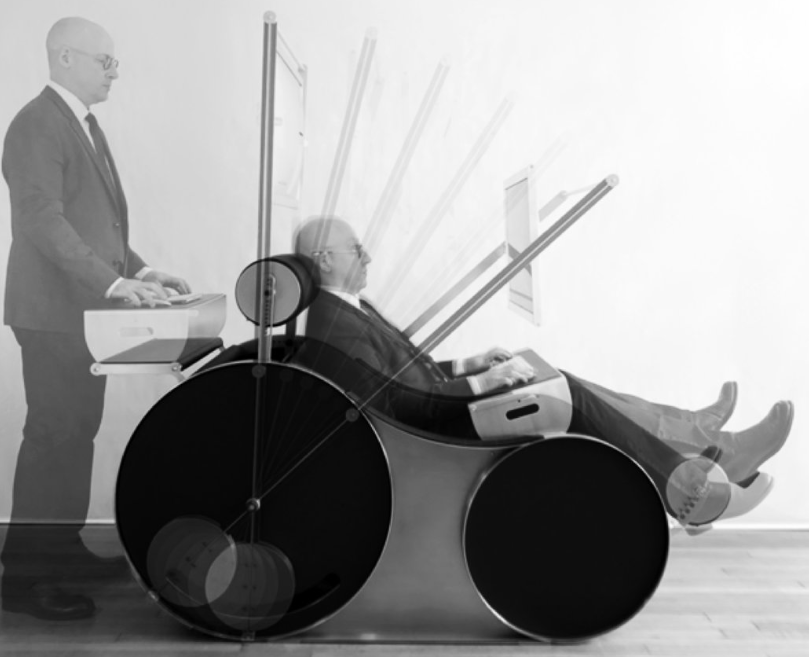 user.  If paired with a laptop, the PDI can also be used as a dual-screen interface in both the seated or standing position.  With the PDI in the default standup desk position, the Chotto simultaneously accommodates both a standing and seated user – all within a small 15 s.f. footprint."
Also the user is very happy but looks trapped.   How does she get out?   Leg support is unecessary as it is provided by the long bones of the leg but a foot rest is essential, padded support for the heels, for prolonged work but not for the upright mode.
You have a good reclined work position.  But the Chair /body shape interface requires  iliac support at 20 cms above the seat pan. This is important for spinal wellbeing.   (See http://sittingsafely.com/2t-reclined-mode/  bottom half).
You have correctly spotted that good design encompasses most body shapes and sizes.  Adjustment is only needed at the extremities, neck and legs.   (See http://sittingsafely.com/adjustment/ ).
I like the way your computer screen adjusts to whichever mode.
For full 2T compliance I make a point for the intermediate ranges to be unstable for additional health benefits.  Of course, this is not basic (See http://sittingsafely.com/exercise/ & http://sittingsafely.com/the-unstable-intermediate-mode/ ).
On further thought, I do not think that a lordotic concave support for the kyphotic/convex thoracic spine, as described in the 2T is strictly required.  The thoracic joints are stable being splinted by the ribs.  Only rotation movement occurs at this spinal level.

Your configuration depends on the convex shape of the wheel circumference and this can support the fairly solid thorax, providing that it is accompanied by neck/head support in the reclined mode.  You will be glad to hear that I have tested this while having my bath.  In the UK we have prolonged baths and so can think great thoughts.  The iliac support, lower down at the lumbar-sacral junction is very important but can be effected by padding as you have suggested,

 

Best

Henry
Another architects chair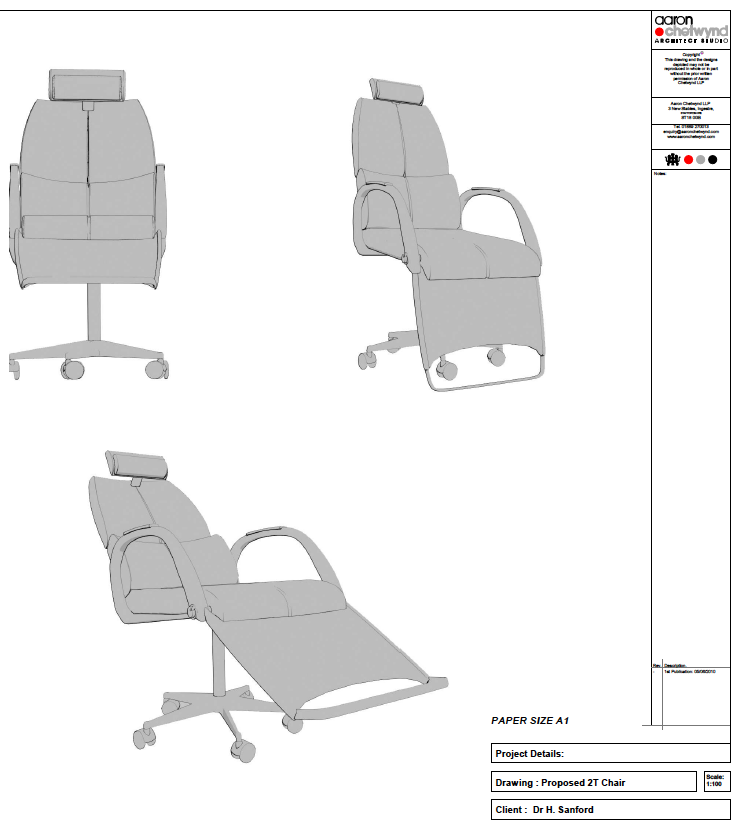 Architects have a tradition for designing good furniture. Aaron Chetwynd did this 2T sketch for me. It is deliberately 'office chair' looking to reduce 'familiarity bias'.   It is not intended to be a work-station.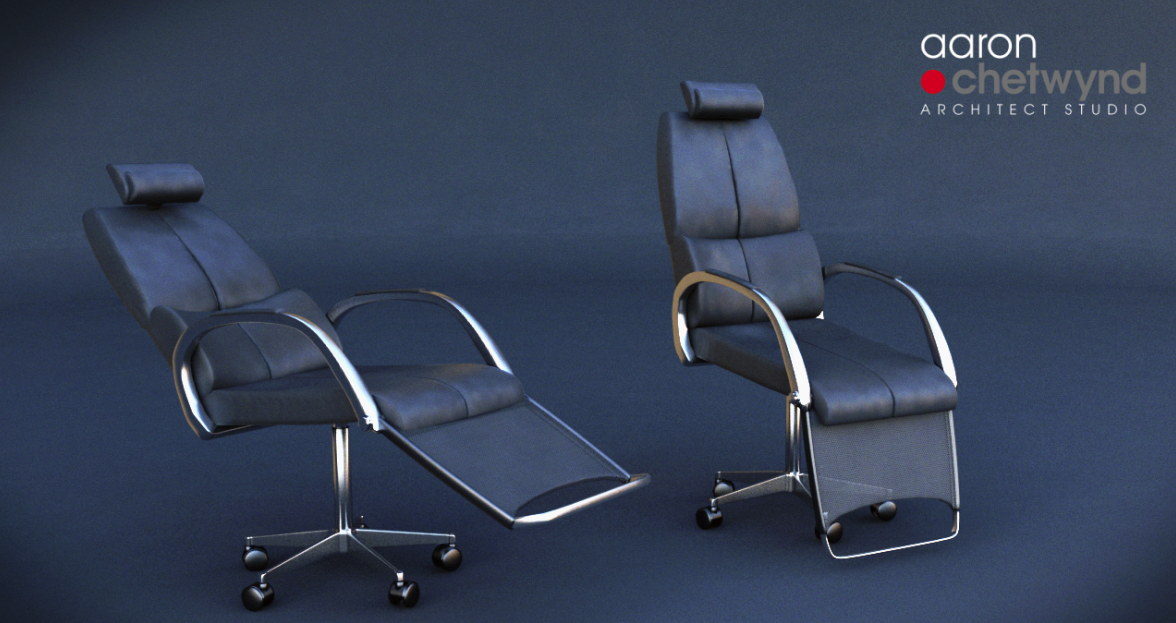 Tom
The leg/foot-rest design is important and is wrong in the Aaron view above. There is no need for a leg rest as this is effected by the strong long bones of the leg (Lower end of the femur & lower leg tib/fib).  However this brings point pressure onto the heels which I found to be painful over time and needs to be well padded.  I think your design shows this except the pressure seems to be at the ankles.  This may need further consideration. Also it needs adjustment for leg length.  Pressure on the calf muscles should be avoided as it may limit venous return and cause Deep Vein Thrombosis.
New point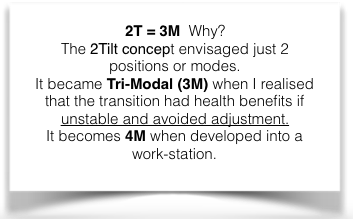 About the Chotto: