As predicted ,  back in 1998, this is begining to emerge.  We see a number of 'work-station' type models which include a reclined work mode and so are superior to the present (2016) upright conventional  models.  The models shown here are not 2T compliant and appear to ignore the science and are based on engineering.    They do not invite a great uptake, inspite of extensive PR.
P Bessey writes (30/6/2016) "It has taken time for the market to build, but there is definitely a movement toward other postures in the workplace. While some of that has derived from posture investigation and potential for beneficial effects on the user, other advances have emerged as a response to changing technology, new materials and a non-paper work method, as seen from the 60's onward.   I suspect that a NASA effect is involved in some of this too. Numerous resources have been directed into space travel in recent decades and, for human travellers, that has mostly incorporated a reclined support system to encourage stress-reduction during high-load take-off and landing. So there has been a real effort to ensure that anthropomorphic needs are addressed properly when working from that position, to ensure equipment control systems can be operated successfully and without long-term harm.   There have been a number of attempts to create pod-like structures around reclined positions, to create controlled environments for audio enjoyment, meditation and relaxation. Perhaps those too, have influenced the current trend? But the main factor may well just simply be the instant communication and data access that today's world now has available for sharing ideas.  Apart from that, it is likely that this trend has derived from the typical and gradual process in which increased knowledge, enlarged awareness and advance in technology brings. Stale markets, where things have remained much the same for decades and highly competitive markets where a cycle of fashion and small detail differences are all the consumer sees on offer, can drive the introduction of disruptive design ideas and encourage new entrants to challenge the existing status quo. 
Perhaps that is what we are beginning to see?
Best regards  Peter"
ALTMARK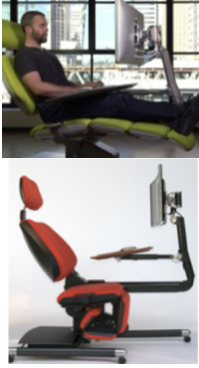 Now, in 2015, a chair is proposed, the Altmark that has at least an upright and reclined work position as I had been recommending since 1998.  However deficient in biomechanics (ergonomic) optimisation, with reservations, it is  potentially the best work-chair in the market. (http://altwork.com).
Did they see my web-page for the 2T concept which has been in the public domain since 1998, later upgrade to the 3M (2T = 3M) & 4M the optimised default  against which the ergonomics of any chair can be assessed?  Or did they arrive at this independently?  I fear it was the latter and the chance of a simpler, more ergonomically optimised and more elegant model was missed.
It also has a 'stand' facility so in this respect is approaching the 4M workstation→.  I have not seen this chair and so cannot assess the reclined configuration.   It incorporates iliac support (at least, I hope iliac and not lumbar), which is required in the upright mode but might be excessive for the reclined mode.  The reclined configuration can be deeply adverse as can be found in some dental reclined chairs.
   From the photographs it does not seem to be 2T compliant.  There appears to be intermediate  position adjustment in the transitional mode, which at best, gives no biomechanic advantage and was probably intended to add comfort → .   Misled by " that treacherous guide  which only turns up truthfully when the ergonomics are fully correct".   If this mode becomes a part of the unstable intermediate mode it allows a faster transition and also gives the user the choice for dynamic motion and rehabilitation.   Scrapping a fixed intermediate mode reduces manufacturing costs.    Not having had an opportunity to see this chair, I cannot comment further on the ergonomics.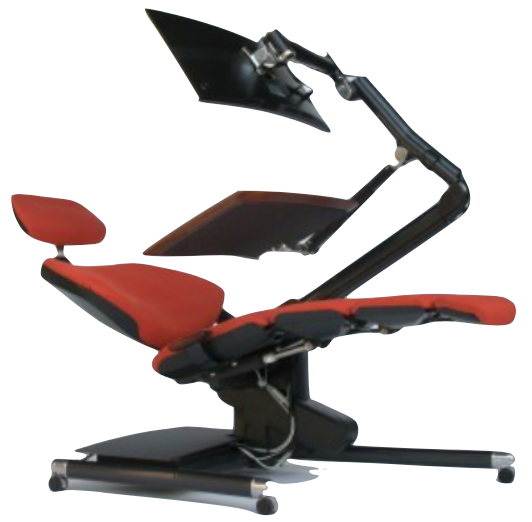 Although an expensive ( $5,900),It looks over engineered, awkward  and too clunky  for an 'object of desire'.   I have ignored a discussion of the aesthetics as I thought that this could safely be left to individual designers.     With the ergonomics correct this could be left to market choice.   Perhaps i was wrong and so hurriedly penned an effusion of which I am not proud!    ☛Altmark and Art→
Now have a look at the Cambridge student project on the 2T CONCEPT. Simple, elegant & cheap.  The Cambridge trials showed the elegance, simplicity, cost effectiveness  and greatly enhanced ergonomics of th 2T concept.

It excited much comment along the lines "Gee!  That's cool.  I want it".  The lack of 'familiarity bias' is typical with the millennial generation.  Go consider.
Ergoquest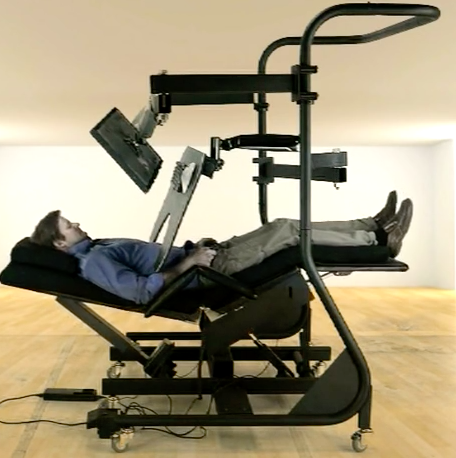 A good idea in that it achieves the 2 modes that I have been advocating since 1998, but what a terrible design!   Electrically operated.  With all possible bells and whistles It represents an almost opposite view to the 2T principle and it's 4M workstation derivative.   This  with an emphasis on anatomy and spinal biomechanics leads to lack of adjustments and simplicity.  Obviously a huge misplaced engineering enterprise without awareness of what was possible and desirable.  Another example of what emerges when the the optimised default solution of the 2T concept is ignored.
Price: $5995
The CHOTTO
This highly innovative chair was introduced to me by it's designer,Thomas Stroman, the Founder of Stroman Design.   He wrote to me "I am an architect by training, but having experienced back surgery, my focus has been on ergonomic seating design for human-computer interaction.
At first glance I might be excused for thinking that it looked as if it were self mobile with caterpillar tracks.  Perhaps an exciting concept for the future. What fun to go charging around the workspace and bumping one's colleagues!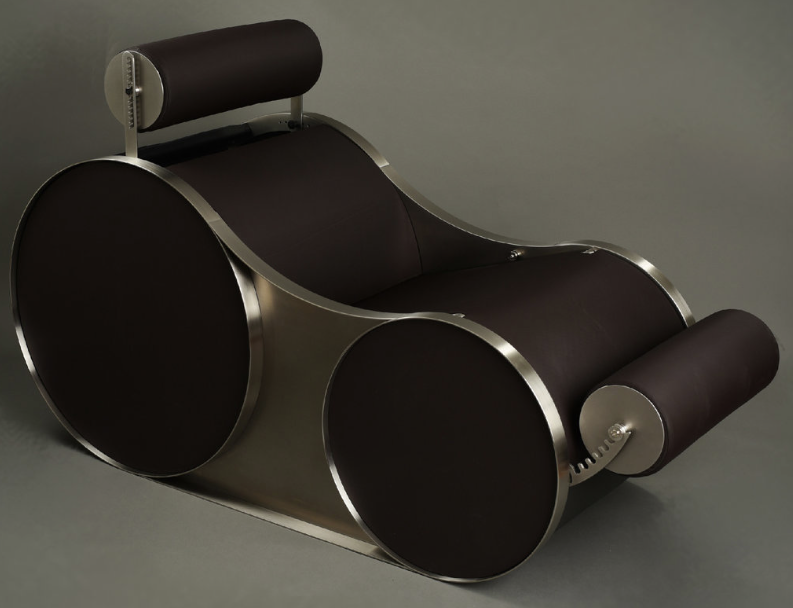 The importance of a reclined work position has been recognised.  It could be modified to become virtually 2t (4M) ergonomic compliant.  A foot rest has been incorporated,