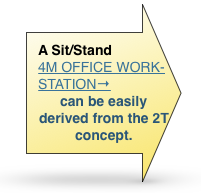 Office work-stations are easily derived from the 2Tilt chair concept. Now renamed the 'Quadri-Modal'  (4M)  concept as a sit/stand component is incorporated.   In a few decades a chair set before a desk, arranged in straight lines will be perceived as not only dated but hopelessly inefficient. There is an increasing interest in this direction.   See Mindjet
"Desks are rather a thing of the past – Dickensian even. They evolved as tables with storage developed, alongside chairs. The whole combination seems a way of reducing/avoiding the need for floor sitting or squatting and a means to provide a convenient standing/sitting presentation of objects for working with at an ergonomically higher level.  They were there to support and present paper documents and the like. Hardware, since then, was largely developed to be used with/on them and has evolved through typewriters and similar devices to today's electronics. Once that demand for physical documents has been reduced and even eliminated by 'paperless' office tech., then there is once more a blank page to draw on."                             P.Bessey
The 2T concept is particularly relevant to the development of a desk-less office chair, described here as the 'Quadri-Modal'  (4M)  concept.  So called as the concept has 4 modes with the addition of an easy 'stand' option.   The AVANTAGES are :-
Freed from the constraints of a desk, the reclamation can be greater, even bringing the feet up to the level of the heart resulting in maximum physiologic and bio-mechanic benefits.
The addition of a Sit/Stand function provides additional movement and social benefits.
The footprint is smaller than a chair/desk combination.
Units can be easily moved about & around.
It can provide a 'break-out' or nap function.
A 4M workstation will be particularly relevant to gaming and the coming AI & MR developments.
It excited comments "Gee!    That's cool.  I want it."
(Yes! That's John Gorman glowering in the background of the Cambridge picture.)
The 4 modes
See   ☛ https://www.magiclege picture.ap.com/#/home →
For another idea for a deskless office see ☛  Co.Exist→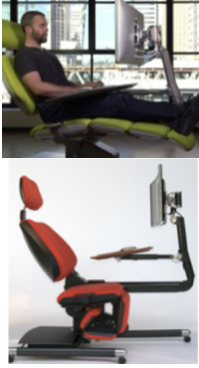 The Altmark station.  Considered further under ☛ WORKCHAIRS, a new breed with a reclined mode.    Seems to be approaching the 4M concept with reservations.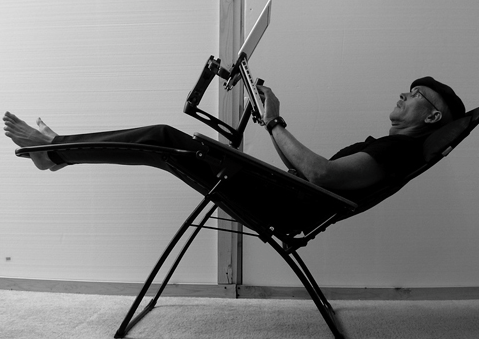 A reclined chair from America.   With some added work facilities.  Hardly an Office chair.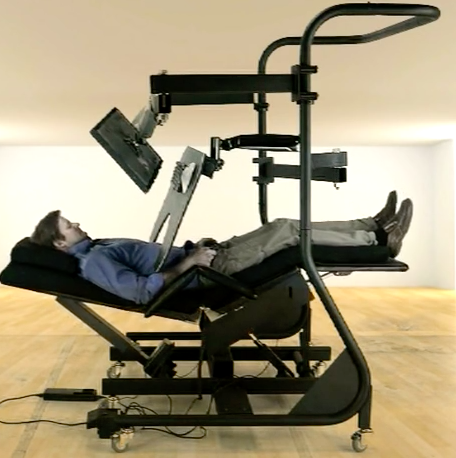 Ergoquest.   A good idea that I have been advocating since 1998, but a terrible design!   Electrically operated.  With all possible bells and whistles It represents an almost opposite view to the 2T principle and it's 4M workstation derivative.   This  with an emphasis on anatomy and spinal biomechanics leads to lack of adjustments and simplicity.  Obviously a huge misplaced engineering enterprise without awareness of what was possible and desirable.  Price: $5995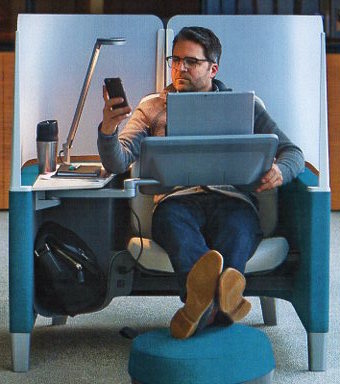 SteelcaseThe Brody Worklounge.  The illustrations suggest a system that approaches the 4M concept.     It lacks the simplicity of the 4M and does not offer a Sit/Stand capability.   The accompanying diagram shows good design, as far as it goes. It looks familiar!  It differs from the 2T/4M concept which provide some learning points which are more relevant to the 3M concept..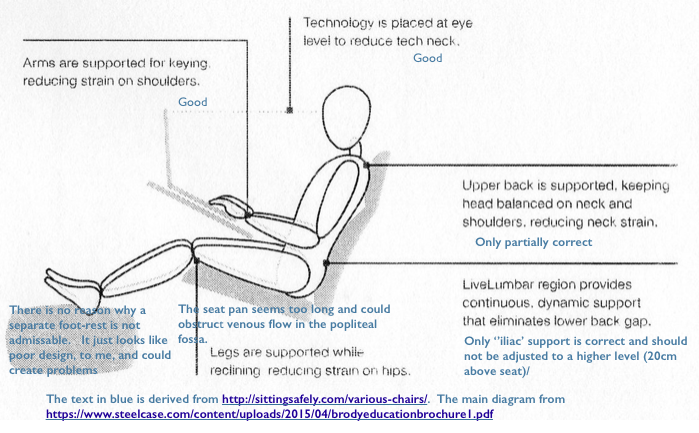 The footprint is larger than an integrated 4M workstation.
It looks very constrainiing for the user.  A big No! No!
position of the arms and wrist on the tilted keyboard which is well placed.
'The technology is placed at eye level'.  

Of course!  But the keyboard is not.

Certainly a step towards the 4M workstation.

 So welcome!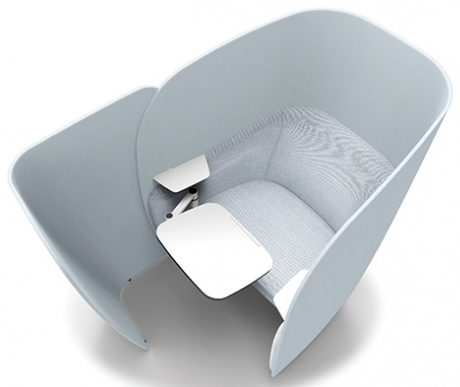 A similar recent contribution is useful for illustrating faults
Perhaps I am being unfair as I have not seen an actual model.  I think it is being offered as a 'break-out' chair.
Stand mode
Freed from the constraint of a worktop desk, a stand mode can be easily designed.  This may help staff to move about and relate to others.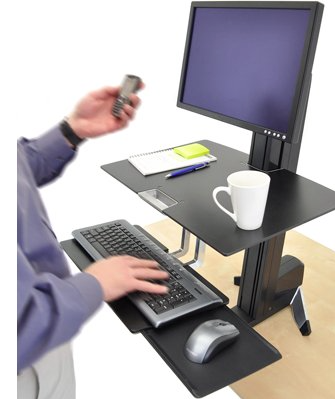 For a 4M the display and small worktop has to be adjusted for height and swung out for the user standing beside the chair or with a colleague.
Shown is an Ergotron 97-581-019 Worksurface.
(http://www.ergotron.com/Home/tabid/36/Default.aspx→)
'Sitting disease'
Compared to people who sit the least, those who spend most time in a chair have a 112 % higher risk of developing diabetes, a 147% higher risk of suffering "cardiovascular events" such as strokes and a 49%t increased risk of death from any cause.  (http://www.telegraph.co.uk/wellbeing/fitness/sitting-disease-is-killing-us-and-exercise-doesnt-help/) Alarming but not entirely an effect of the bio-mechanics and not examined here.  However some posts are relevant.
THE OFFICE OF THE FUTURE  See→
With the advent of AI and robotics affices will be geared to the emotional and physiological requirements of the highly paid staff.   2 Tilt chairs and their 4M derivatives will be exactly relevant, becoming an office work-station.  A sleep hood can be incorporated into the design and avoid the neccesity for a dedicated 'nap-room'.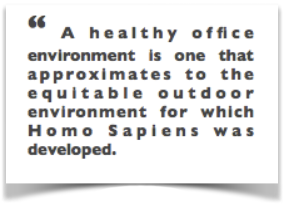 Poor ergonomics are only a part, albeit an important part, in accounting for the high stress levels in the modern office environment which results in absenteeism and morbidity.   The identified physiological stressors can be identified and easily corrected with increased productivity.  See Ergonomics and office stress.
THE HOME OF THE FUTURE – VR and sitting
Global blue chip companies are throwing their weight into VR development (hardware and software),  Mark Zuckerberg believes "this kind of immersive, augmented reality will become a part of daily life for billions of people".
Eliott Myers from Roto VR, which is a small, innovative firm with designs on the related accessories market claims that "Roto enhances the seated experience with haptic feedback so dramatically you feel like you're really there, in another world. Once you've tried Roto, VR feels empty without it.  With Roto, you can add our Table accessory, so you can drive around 360 degrees with a steering wheel (and pedals). Roto also has "rumble shakers" which can be affixed to the underside and back of the chair for added sensations. It's like 4D on steroids. Actually we should call it 360D!"  http://www.rotovr.com
Sounds exciting! and should be relevant to 2T or 4M design.  Another 'blank page to draw on'.