A Partial solution.
The forward tilted seat concept preserves lumbar spinal lordosis and allows freedom of movement.
As already described (Mandal, A.C.: "The Seated Man"1987) workers in Scandinavia, advocated a seat that was tilted forward and down by 20-30° from the horizontal, allowing the hips to extend to 120-130˚ and the pelvis to tilt forward with the lower spinal joints adopting the correct, safe, lordotic posture.  No back rest was necessary and the torso was free to move.   The  unsupported spine may incur slightly greater intra-discal loading probably from muscle co-contraction which is tiring and makes the FTS unpopular.   Makhsous (Makhsous M. 2003), has shown that sitting on a horizontal surface involves lumbar flexion relative to standing and   has also shown that with seat angled down, weight is largely shifted to the proximal half of the thighs at 18°. This was also shown in previous work (Corlett, 1999, Eklund et al, 1982, Schoberth, 1978).  This is not relevant for  it's short use in a 3M chair.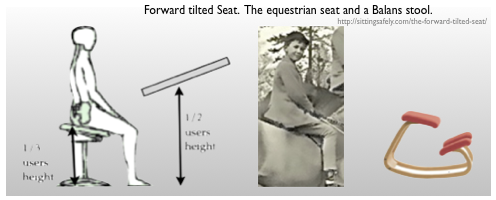 Mandal determined, by tilted incrementally the chair seat and work surface, that an optimal position resulted in a correct lumbo-sacral lordosis and hip extension. He concluded "The recommended chair height is one-third of the person's height, and the desk height one half. Most people with back pain will find this very comfortable, but for the first weeks you will only be able to sit like this for 5-10 minutes, because your back muscles need training."  ☞ Mandal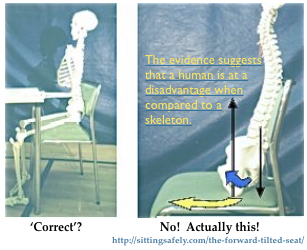 The kneeling component of the Balans chair, shown, is to prevent forward slipping.  With a static FTS this tendency to slide forward is tiring to resist.  Alternative options are non-slip materials, memory foam and configuring for both comfort and 'butt pockets' to relieve pressure on the Ischial Tuberosities (ITs). (See 2T Upright mode→)
 The Forward tilted Seat and The Ischial Off Load' system
The Ischial Off Load' system is a variant consisting of a convex chair seat so that the  front half of the seat is tilted forward approximating to a FTS.