Sitting Is Deadly. Could Banning Chairs Help?
Peter Bessey (he did the CADs for me) sent me this link,
https://www.fastcodesign.com/3068098/evidence/sitting-is-deadly-could-banning-chairs-help
My initial reaction was that this was way OTT.  On second thoughts I realised that I had been saying something similar since 1998. As a consultant in Muscle-skeletal (Orthopaedic) medicine my interest was to remediate the factors that could lead to spinal breakdown.  Later, my general medical practice long past, I realised that there were also general medical adverse, potentially terminal,  effects.  It was mentioned under 'Sitting Disease' in    Chair DESIGNERS & Low Lumbar Backache
My own view is that sitting at work is not dead but should be transformed into a workstation incorporating the 2T (or 4M) concept.   Sit/Sand systems are also a help.   HAS 18/2/2017.
The End of Sitting 
 Summary of the work by RAAAF.    This is an installation by the interdisciplinary Dutch studio RAAAF (Rietveld Architecture-Art-Affordances) and lies at the crossroads of architecture, visual art and philosophy.   In our society almost the entirety of our surroundings have been designed for sitting.
Redesigning the workplace environment and home might manipulate an impact on sedentary behavior.  Their installations are mostly conceptual.  But they bring up an interesting idea: What if chairs were eliminated altogether? Is that even possible? And would that solve work and societal sitting problems or just open up the door to new problems?
The RAAAF installations The End of Sitting, which debuted in 2014, and Breaking Habits, opening at the Mondriaan Fund for Visual Arts in Amsterdam February 16, present chair-free environments that encourage people to get up and move. As Erik Rietveld puts it, "As long as there are chairs present, people will sit in them habitually."
The End of Sitting – Cut Out marks the beginning of an experimental trial phase, exploring the possibilities for a radical change in the way we work in 2025. This project is a follow-up of the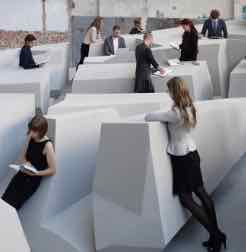 architectural art instalation made in Looiersgracht 60, Amsterdam by RAAAF. It is cut out of the landscape of standing affordances and includes the most successful positions for supported standing. It allows visitors to stand, lean, hang or lay down while interacting, reading or working. The visitor is both participant and spectator. This travelling exhibition allows everyone to experience the future of the standing office.
Slideshow Credits: 01 / Photo: Jan Kempenaers via RAAAF; 02 / Photo: Jan Kempenaers via RAAAF; 03 / Photo: Jan Kempenaers via RAAAF; 04 / Photo: Ricky Rijkenberg via RAAAF; 05 /Photo: Ricky Rijkenberg via RAAAF;
The concept seems to be that of a Sit & Stand complex.  See Sit Stand & stools →.   Even an office of this sort may have environment adverse effects for the health of staff.  See →