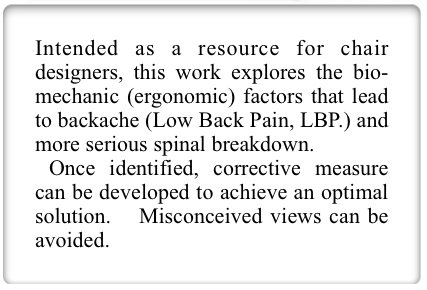 LLB

 

related to sitting.
Some 
essential reading  and a resource for designers of ergonomic chairs and retail office chairs if they wish to improve the 'ergonomics' of their models with overwhelming health selling points. 
From a medical perspective, chair designers seem to have problems.     Familiarity bias makes it difficult to recognise the underlying bio-mechanics for a chair that can in due course result in spinal problems.   To sell ergonomic incorrect chairs, when this is generally known, will become unacceptable and the existing 'cool' upright models will be superseded .   HAS
It is hoped that this work may provide you with the resource for an understanding of the requirements for safe design so that Bio-mechanic adverse designs can be avoided.
Backache (LBP & other disorders) are still prevalent.  ☛ Prevalence and economic cost of LBP.
There is no chair on the market, at present, that can be recommended for prolonged sitting.  ☛Various chairs. How do they measure up? →
At present most work chairs can be unkindly designated as 'Machines for making Backache'.   ☛HOW WE SIT NOW→
Recent scientific work on spinal pathology and biomechanics show that these 'correct' details are seriously adverse to spinal well being.  See adverse effects of ☛mid-upright seating→
Pressure studies alone show that upright sitting itself is seriously adverse ☛  Loading→
The mid-upright position details, accepted as 'correct', seem to have been codified in the 1920s as a result of a false premise (see Mandal. AC., The Seated Man (Homo sedens).1985. Dafnia Publications,  ☛ Homo sedens→)
The 2 present remediations for the upright chair are   and a combination  the ISCHIAL OFF LOAD system →
Usually misapplied.  See

Ergonomic chair design seems to have come to the end of the road with some, but not great, 

success in avoiding Low Lumbar Backache (LBP).  

A new 

'

fix

'

 is in order.

Bio-mechanics (ergonomics) show that a reclined work mode is essential for prolonged work.  ☛  reclined work mode→
A reclined work-chair involves essential requirements to be fully functional.
A fully practical solution can be  effected by the 2T CONCEPT a full solution →  A 'paradigm change'?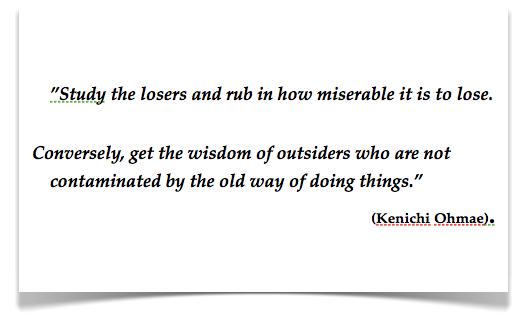 .   See  for the losers Various chairs. How do they measure up?. →
How 'ergonomic' are your designs?  How many boxes do they tick?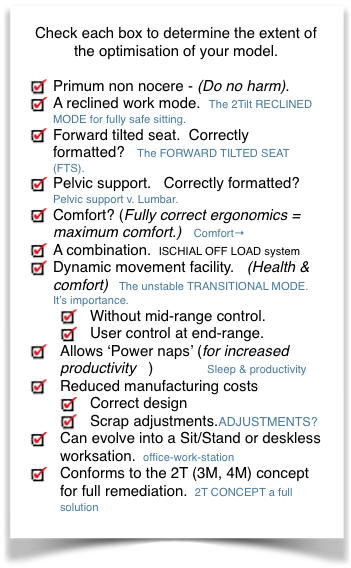 The FORWARD TILTED SEAT (FTS) →
BACKRESTS. Pelvic v. Lumbar. →
COMFORT →
The unstable TRANSITIONAL MODE. It's importance.→
There is now no excuse for poorly designed chairs and the conventional mis-advice that is perpetuated.    Mandal 'The Seated Man'→

 It has to be said that these references, below, are to the back-rests of upright chairs and many of the tips are good,
Low Lumbar Backache  (LBP).  Some views.
All designers researched at a trade show expressed that their main object was based on a search for maximising 'comfort'.    Instead it should be  'Do no harm'  based on correct medico-scientific research, as described here.   See Comfort→.  Forgive me for harping on this.  It has occurred to me that, in spite of much good work, this misconception and familiarity bias may have held the chair industry back from a much needed sitting artefact.  I hope that this will gradually come to be recognised.

The biomechanical imperatives show that a safe chair can easily be achieved with the  ☛ '2 Tilt principle'→.
You can try embarking on the more adventurous 2T or 4M desk-less work stations.
The 4M workstation will be particularly relevant to the coming AI, VR & MR developments.
Please do not hesitate to get in touch for queries, comments or more design details.  Contact→
At present (2015) designers have expressed worries that an innovative and supposedly  'paradigm change' expressed in the 2T concept excites negative familiarity bias.   This is becoming less. and the concept is especially welcome with

The 'millenial' post-graduate age group. It was noticeable how students at Cambridge loved the 3M prototype and used it whenever possible.

People who have Low Lumbar Backache.  This large cohort, about 70% of the UK population,  immediately see the advantages and ask "Where can I get this'.  (Of course, they can't!).
Insurance is already begining to take an interest (personal communication).     HAS
Once people understand that it has health benefits, and possibly even more than any existing chairs, they will demand them. 
The offices of companies such as Google, Skype and Facebook, are like a playground with innovative furniture which would have looked outrageous ten years ago.  This could include the 2T concept that I introduced in 1998.  which is now no longer looking extraordinary.

The TriModal (3M) or 2T CONCEPT is just that – a concept.  It provides a designer with a practical basis for development of an ergonomically optimised office chair which can be achieved in a number of ways and styles.
Design details have emerged from work on prototypes and are available on request.  The 2 TILT CONCEPT.→The advantages of the unstable 2T (3M) transition mode are still not understood.      The unstable TRANSITIONAL MODE. It's importance.→
pMRI.

  Confirms assumptions derived from these bio-mechanical studies and clinical observation have been validated by pMRI scans (

Smith FW,

2007) which show that the reclined mode ensures migration  of IVD nuclear material away from dangerous position near the back of the inter-vertebral joint which occurs with upright (90°) sitting.  

It is difficult to refute this evidence.

"Desks are rather a thing of the past – Dickensian even. They evolved as tables with storage developed, alongside chairs. The whole combination seems a way of reducing/avoiding the need for floor sitting or squatting and a means to provide a convenient standing/sitting presentation of objects for working with at an ergonomically higher level.  They were there to support and present paper documents and the like. Hardware, since then, was largely developed to be used with/on them and has evolved through typewriters and similar devices to today's electronics. Once that demand for physical documents has been reduced and even eliminated by 'paperless' office tech."'  (P. Bessey).
Terminology.   The early concept depended on 2 positions, or modes, hence 2Tilt or 'bimodal'  (2M).  When I came to realise that the transition stage also carried benefits, if unstable, it became a mode in it's own right.  Hence the 2t became tri-modal (3M).    If it can be adjusted to stop in mid-range it becomes effectively useless and is no longer a mode.  Bias makes this concept difficult for most designers who have been taught to aim for infinite adjustability for comfort.  A midrange position is, or is nearly,  maximally ergonomically adverse and some users might mistakenly adopt it for prolonged work.  Might they do this in the upright mode?   Perhaps not as they have a more comfortable option with the reclined mode.   Only time & experience will tell but that is why I have, pro tem, stipulated that this should have remediation built in, preferably a Forward Tilted Seat (Mandal) or pelvic support (Gorman).    With a 'deskless chair' or workstation a 4th standing mode is incorporated and the concept becomes 4M.  ( OFFICE WORK-STATIONS).
I am merely providing an ergonomic concept for designers, to use to help produce an actual chair that can be used for sitting.   There is freedom within the concept for design to achieve extra engineered ideas, aesthetics and brand image.