THE CARCASS 
Being the interface btween body shape and chair, it is important that the Reclined mode configuration should be correct.  If not it can engender discomfort (as can be experienced in certain dentists chairs) and more important is potentially dangerous.
Since these 'shell' components are intended to describe a seat's supporting interface with the human body, when completed the Shell Chair forms could be employed to assist in creating an actual shell-based seat in various possible ways:
Shows that a slightly flexed thoracic spine + the upper lumbar joints is not adverse.
An office version would be narrow with a small telescopic headrest to address height variation and to reduce footprint.
Iliac support is included to prevent lumbar spine sagging in the relaxed mode
Shoulder width to allow people with broad shoulders to have full movement without laterel constraint.
In this assay the headrest is wide to include audio speaker components for home use.
Materials
Moulded alone in a thin rigid material (as with Aaro Aalto's ply furniture or the Knoll Saarinen).  Graphene is obviously relevant.
Moulded to form a base shell carrying relatively thin textile/foam skin padding (Eero Saarinen Knoll and Eames Vitra collection).
As a final form around which a tensile mesh or textile 'hammock' design could be generated (Herman Miller Aeron and Knoll Generation chair).
As a final form around which various upholstered designs could be generated (Knoll Eames or Herman Miller ranges)
As a final form around which other associated furniture or workstation accessories can be generated (modular office systems)
Consider Gordon Murray's system consisting of tubes + composite giving extra strength
http://www.bbc.co.uk/iplayer/episode/b01f11hp/How_to_Go_Faster_and_Influence_People_The_Gordon_Murray_F1_Story/  (Note by Peter Bessey )
SIZE
Largely determined  by the the head-rest and foot-rest. Also ? size models.   See  http://www.hermanmiller.com/MarketFacingTech/hmc/solution_essays/assets/se_The_Anthropometrics_of_Fit.pdf .    In spite of all their adjustments, bells and whistles, Hermann Miller still has 3 sizes.   We should follow with something similar.
Pelvic (Iliac) support 
Pelvic support was developed by John Gorman an engineer and chiropractor was in contradistinction to the prevailing 'lumbar support'.  Precise support, shaped to the curve of the iliac crest is  applied to the posterior iliac spine and iliac crest of the pelvis.   A slight forward nudge at this point is mechanically efficient in extending the two lowest joints and prevents the pelvis rotating backwards.  Pelvic support was designed for upright chairs.   As a component of the cacass 'shell' it need only be minimal and not adjustable. Intended to prevent backward pelvic tilting when supine lying.  It cease to be 'pelvic' and becomes the adverse 'lumbar' support above 20 cm from the seat -pan.  Do not allow adjustment!   See http://sittingsafely.com/pelvic-support/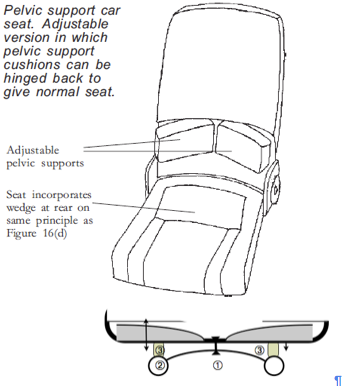 Possible 'wobble' arrangement for the Iliac support section
Midline fixing
Main supporting skeleton
Spring/rubber/sponge to allow movement as shown by arrows.
ANGLES & Backrest variability
CAD drawings suggest that the backrest should be hinged to the seat pan to obtain optimal configuration in the 2 modes.    Adds to manufacturing cost.These were explored by Peter Bessey as a theoretical exercise in 3D CAD, based on anthropometric (US) data from the well known Henry Dreyfuss book. It commenced around a simple 50percentile male mannequin which was readily available.  The information from this investigation, should first be used to generate a totally adjustable Rig device, that should be used for trialling and true research purposes, before any final design concepts are prepared.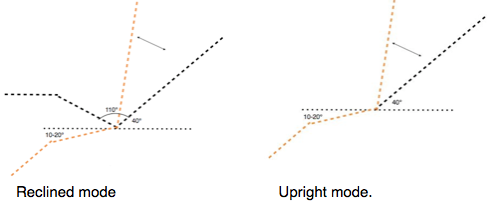 With the adoption of the 4M deskless, work-station model the constaints imposed by these angles become largely irrelevant   See http://sittingsafely.com/3m-office-work-station/

The seat
2 holes should be cut near back of wood base to limit slippage with a FTS seat.  Position showed by Okamura research (below).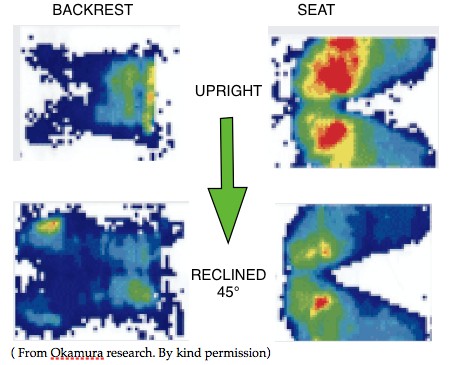 "stool height." The term "sitting height" is reserved for the height to the top of the head when seated. For men, the median popliteal height is 16.3 inches and for American women it is 15.0 inches. The popliteal height, after adjusting for heels, clothing and other issues is used to determine the height of the chair seat. Mass produced chairs are typically 17 inches high.
For someone seated, the buttock popliteal length is the horizontal distance from the back most part of the buttocks to the back of the lower leg. This anthropometric measurement is used to determine the seat depth. Mass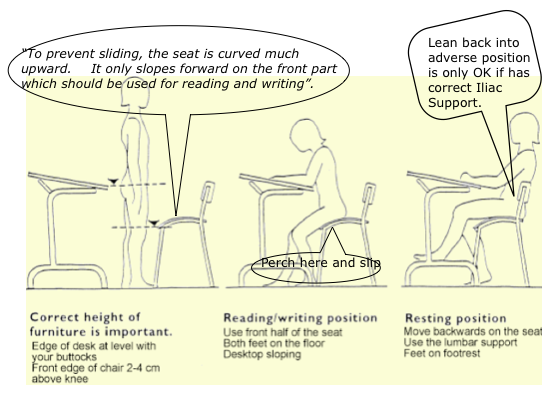 produced chairs are typically 15-17 inches deep.
The Seat height based on Mandal's 'Forward tilted seat' (FTS).  Forward tilt down by 15-20°.
Peripheral details
HEAD-REST
It is suggested that the head support should be directed to the base of the skull in the simple office form.  Measurements are shown below.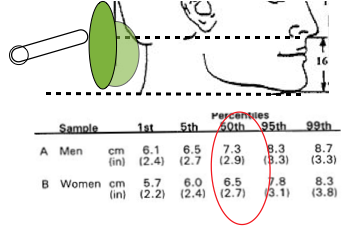 The head-rest should be adjustable in both
Longitudinal
A-P directions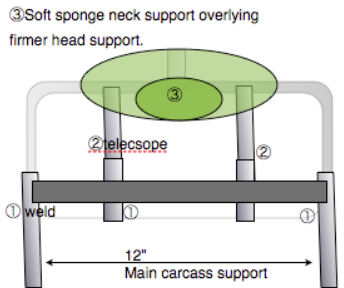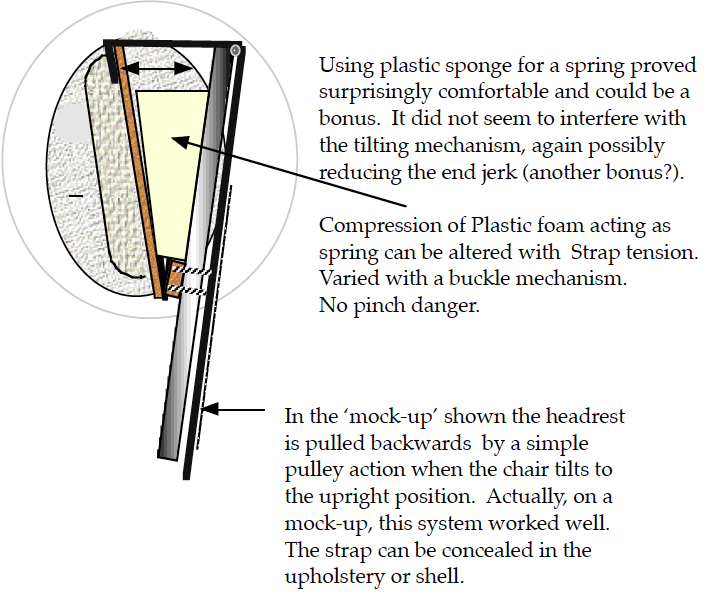 Arm-rest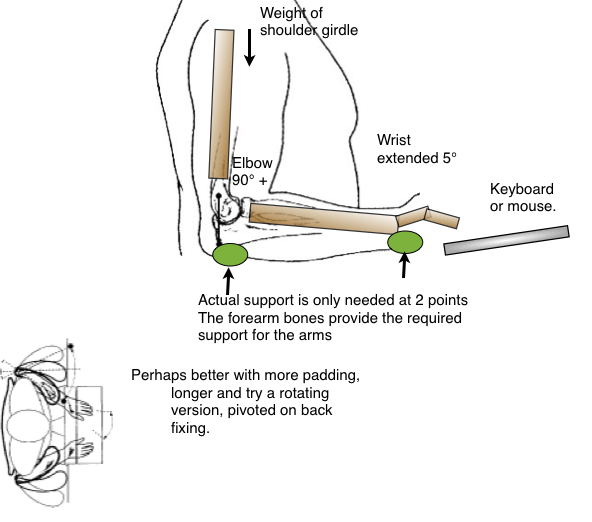 FOOT-REST
Optional only if the heels do not rest on the floor or desk bar. This can be arranged if the chair is lowered when in the reclined mode (as in the Okamura chair).  I regard this as only acceptable if performed easily without complicated manual adjustments.  ( Is it possible to have a mechanism that does this when the user leans backward into the reclined mode?)   A SPRUNG SOLE MUST BE OPAQUE FOR ISLAMIC SUSCEPTIBILITIES.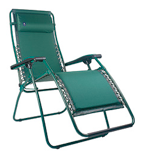 A monococque design is probably unsuitable for an office work chair, but may be possible in a deskless design.  Ideally the leg/f00t-rest should retract or fold back when in the upright mode. A simple system is shown in the garden chair. A similar model can be bought cheaply at B&Q.
There is no need for the calf support.  This could result in DVT. The lower leg bones (tibia& fibula) give the only support required between  the thigh at the seat pan and the heel at the foot-rest,   However variability of the leg-support is essential and adjustment can be achieved by a telescopic spring arrangement extended by the user in the reclined mode but  retracts and folds back in the upright mode.
To incorporate a heel-rest to the Aaron design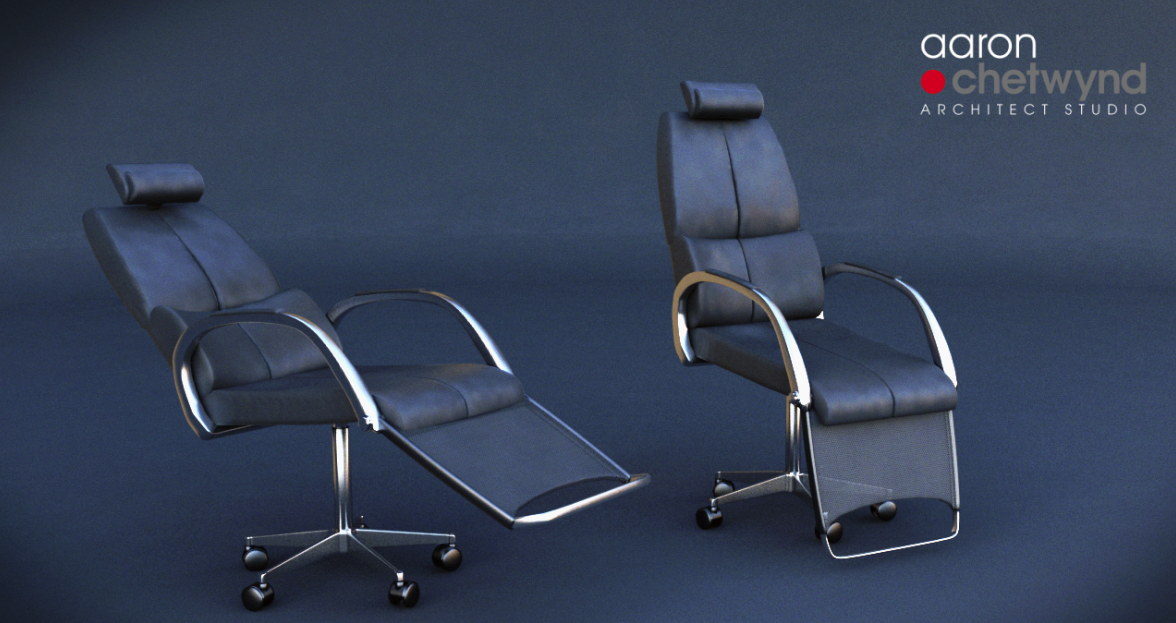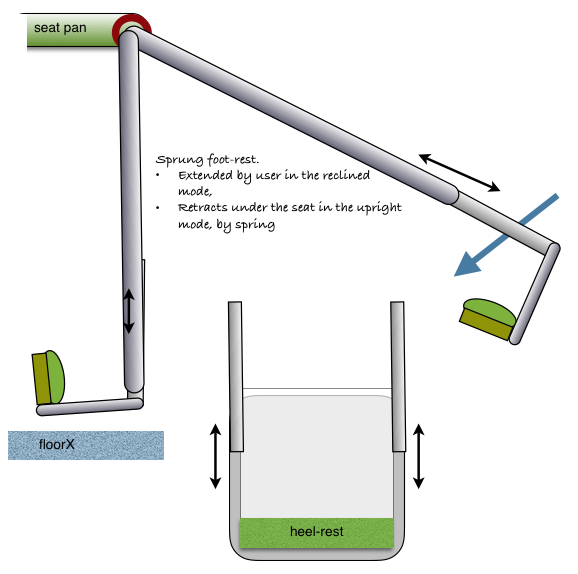 Close to the Aaron concept