To design a hospital bed to a new concept a knowledge of existing thinking is helpful, with a quick Google search.
A 2T version would be a major advance on most of them in cost, versatility and comfort.
Simple and inexpensive
Allows user movement
Incorporates the emergency Trendelenberg position.
Allows a more user friendly position for cervical traction.
Allows the patient to lie fully flat horizontal.
Lying on side, prone or in the recovery position is possible.  The slight 'iliac' support would be lying above the pelvic brim and limit slippage if the head end is lowered.  The slightly elevated legs aids venous return.    It can be addressed by increasing the seat/back-rest angle or having these components hinged (an added expense).
Return to ← Hospital Applications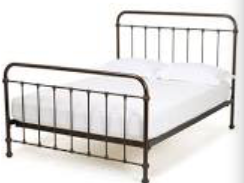 A simple hospital bed.   
Retails at £340.
A home bed with a backrest and some contouring.

'Xb Hospital Bed Profiling Nursing Bed Patient Bed Care Bed Multi Function Electric Smart Home Care Bed Manual Adjustable '    from £2,616.97.    

The hype states :-

Backrest and Leg Lifting: Adjust bed to a comfortable position to meet amusement, dining, reading and cleaning.
Leg up & Leg Down: Relax patients legs, promote legs blood circulation, preventing varicose veins and easily for legs' daily care.
Backrest Lifting: Patients can sit up and do some daily life activities easily, lessening nursing burden for both patients and nurses.
Easy full body lift for nursing and working.
Looking at these beds, a few ideas emerge to comply with a 2T version.
The bed-end would become a variable foot-rest enabling exercise of the calf,
The side restraints could be added at will.
The short base wheels would be back at the level of the end of the seat-pan.  (Tipping might occur if someone should sit distal to this point).
This allows the bed to be transformed into a wheel-chair.
Adjustable head-rest, foot-rest and leg-raise would be integral.
The Trendelenberg position available for emergency use.
At Last!   A brave effort going some way towards the 2T concept.  It looks awkward, over-engineered  and is anything but simple.
Ankit Polyweave Industry provide vast range of best quality hospital bed and other hospital equipment in India.
Expensive, complicated compared to a 2T model.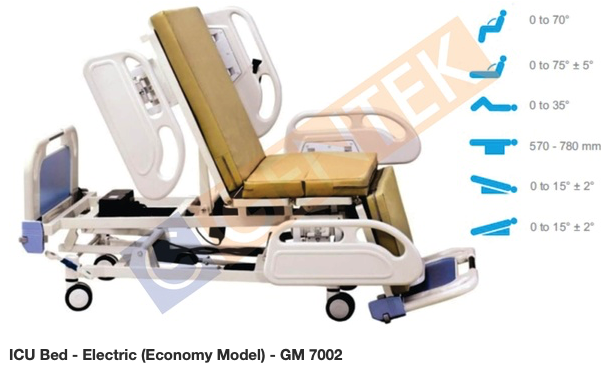 Another example.   The ICU Electric economy model GM7002.   Instead of a simple 2T tilt the carcass is moved forward to achieve a wheelchair mode.
HILL-ROM TotalCare Sport 2 P1900M
Electric Hospital bed.  Asking Price :$5,995.00 USD.   At least it has an upright mode.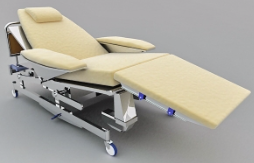 The carcass/shell of this model is near correct, except for poor contouring.   A 2T version would be simpler.   Note that the front wheels of the support are below the front edge of the seat-pan which allows a wheel-chair mode.  This has been made awkward by the undue depth of the seat.   Check with the advised dimensions of the 2T version to see how this could be improved.  Could a visitor sitting on the leg-rest tip the whole bed?   Unlikely, I think.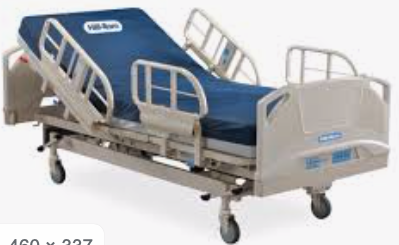 It can be seen that a 2T version has the potential to be a major advance on most of these in cost, versatility and comfort.